Reviews
Ford has manufactured its new vehicle Ford Focus RS for those who want to try Rally racing. It is a car for those want their car to accelerate with more power and achieve its top speed quickly. The car has Michelin Pilot Super Sports 19-inch tires and has the capability to cope up with any of the turbocharged vehicles of the class.
Engine
Focus RS comes with a 2.3 liter four cylinder engine that can produce a power of 350 Hp and a torque of about 350 lb./ft. the torque produced is delivered to all the four wheels using a new vectoring system that accelerates a car at a rapid pace.
Specifications
It is a front engine 4 wheel drive vehicle that has a room for five passengers. Owing to its size and shape it is ranked among a 4 door hatchback cars. The engine installed matches well with the weight of the car resulting in perfect drive either it is cities or off road drive. The idea of keeping manual shifting also seems great as it imparts more control to the driver and can make better decisions. Talking about the performance of car it will accelerate from flat 0 to 60 mph in 4.6 seconds attaining a top speed of 165 mph.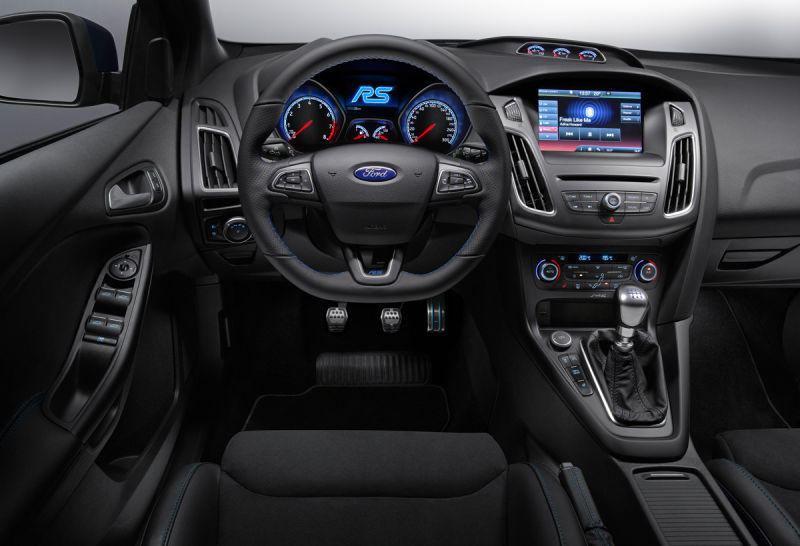 Price
The new Ford Focus RS is available with the base price of 36,605 dollars while a loaded version will cost you around 40,085 dollars. There is a difference among the tires and interior of both the options.
Mileage
2016 Ford Focus RS is an eco-friendly car with low carbon contents in the fuel. However, its mileage is not that much impressive as they were expected. It will provide you around 19 mpg in cities while highway drive is quite economical increasing up to 25 mpg.