When it comes to getting your car's oil changed, there are plenty of options out there. One of the most well-known names in the business is Jiffy Lube. With over 2,000 service centers across the country, it's hard to miss their distinctive red and yellow signage.
If you're wondering, "How much is a conventional oil change at Jiffy Lube?" it's essential to consider both the cost and the quality of service.
Let's weigh the pros and cons: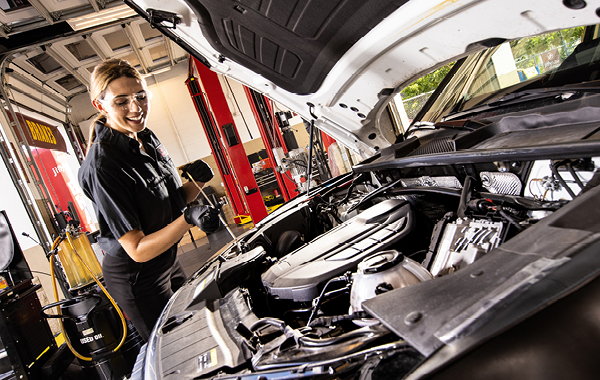 Content
Pros of Choosing Jiffy Lube
Convenience: One of the biggest advantages of going to Jiffy Lube is convenience. With their extensive network of service centers, you're likely to find a location near you. This means you won't have to go out of your way or spend too much time driving to get your oil changed.
Speed: Jiffy Lube lives up to its name with a "get in, get out" philosophy. They pride themselves on completing oil changes quickly, often in 30 minutes or less. If you're in a hurry and need a speedy oil change, Jiffy Lube can be a reliable choice.
Drive-Thru Service: Jiffy Lube offers a drive-thru oil change service. This means you can stay comfortably in your vehicle while the technicians perform the oil change. It's a convenient option, especially if you have kids or simply prefer not to step out of your car.
Affordable Pricing: For many budget-conscious drivers, the cost of an oil change is a significant consideration. Jiffy Lube frequently offers discounts and promotions. You may come across deals like a $19.99 oil change, which can be a wallet-friendly option.
Cons of Choosing Jiffy Lube
Quality of Service: While Jiffy Lube has a reputation for speed and convenience, there have been reports of inconsistent quality of service. Some customers have experienced issues with their oil changes, including incorrect oil types or insufficiently tightened oil caps. In some cases, Jiffy Lube workers may not be adequately trained.
Trustworthiness: Trust is a crucial factor when it comes to car maintenance. Unfortunately, there have been reports of customers feeling like they were taken advantage of at Jiffy Lube. This can include unnecessary upselling of services or recommended repairs that aren't truly needed.
Lack of Expertise: Jiffy Lube's primary focus is on oil changes. While they may be proficient in this area, they may not have the expertise to diagnose and repair other issues with your vehicle. If your car needs more than just an oil change, you might be better off at a full-service auto repair shop.
It's important to note that experiences can vary widely depending on the specific Jiffy Lube location and the individual technicians working there. Some customers have had positive experiences with Jiffy Lube, finding it to be a convenient and affordable option for routine oil changes.
Before making a decision, it's a good idea to do your research. Read reviews of your local Jiffy Lube to get a sense of their reputation. Ask friends and family for recommendations, and don't hesitate to ask questions about the services they recommend. While Jiffy Lube can be a convenient choice, it's essential to ensure that your car receives the quality care it deserves. After all, your vehicle's longevity and performance depend on it.