Electric bicycles are being loved by more and more people as one of the most popular means of transportation in the world today. Entertainment is practical, environmentally friendly, and reasonably priced all combined on it. As you can see, electric bicycles play an important role in public transportation.
Funbike has been engaged in the Ebike field for more than 20 years. Since its establishment, it has been committed to the development and production of bicycles and has been making breakthroughs.  Funbike not only has its electric bicycle factory but also has a professional team, including a research team, internal designers, engineers, and marketing personnel, who take part in OEM and ODM projects.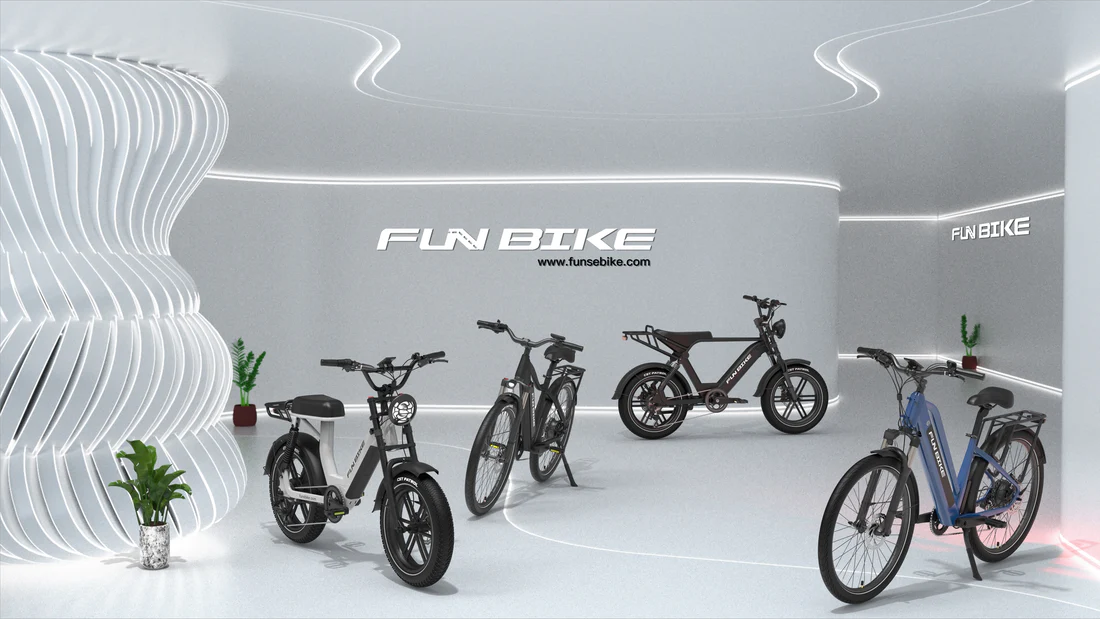 High-efficiency factory with a high annual output
Our factory is located in Wuxi, the base of China's electric bicycle industry. We chose the site of the factory near the highway and airport, where we can obtain material and components rapidly, meanwhile, we can deliver our products to customers with less time. It was established more than 20 years ago, collecting the most advanced production technology and the strongest manufacturing capacity. The factory now covers an area of over 40,000 square meters, has 7 professional production lines, and has 300+ skilled employees, which allows Funbike's factory to reach an annual output of 150,000! Since 2014, Funbike's producing team began to focus its research and development on electric bicycles and engaged design and manufacture of molds. Most of our electric bicycle frames are designed and manufactured by ourselves, and we have an elite team of engineers!
Production modes are followed strictly and mature quality inspection processes. Funbike electric bicycles adopt a fully automatic production line and a total of 70+ production processes. The CNC machine tool improves processing accuracy while saving time for production preparation and production with high efficiency. At the same time, quality inspection is the most important step of the production process of electric bicycles. Funbike attaches great importance to quality inspection. We have over 20 quality inspectors to inspect every batch of goods that will be sold worldwide. Funbike separated the inspection process into five steps: 
first inspection,

patrol inspection,

completion inspection, 

self-inspection,

warehousing random inspection.
Exclude substandard products through inspection and guarantee that the quality of each electric bicycle meets the standard!
 Stable and reliable partners
Since 2015, we have begun our own CNC machine tool processing, used for large-scale processing of parts, which is a remarkable step forward for Funbike! This not only improves the degree of automation of the production process but also makes the annual production capacity of Funbike's electric bicycles rise rapidly.
Since 2017, Funbike has cooperated with various scientific research institutions around the world, which has helped our company improve the scientific and technological content in the development, production process, and quality inspection, So we can create the top, reliable and high-quality products for the electric bicycle industry!
We have cooperated with a stable battery supply factory for more than ten years, so we have the battery's price advantage and quality assurance.
With a stable supply chain of components, strong technical support, and mature producing technique, we have more reasonable prices and faster delivery time. As a Chinese export-oriented electric bicycle supplier, Funbike has been cooperating with some dealers for a long time. Our products are mainly sold in North America. Fortunately, we have received many good reviews. In the past year, Funbike has sold 60,000 electric bicycles in total.
Shorter delivery time
Because the business volume is still expanding, optimizing the warehouse working process and delivery time is necessary, so we cooperated with FedEx and UPS. From signing the contract to delivering the product, you can get them within 9 days at the earliest! And if you need some samples to check the quality, we can ship them to you immediately once the production is finished. In fierce market competition, speed also plays an important part in success under the premise of ensuring high quality which our company firmly believes.
Suppliers with more features
Funbike is always eager to develop in-depth cooperation with distributors, so from pre-sales to after-sales, we do everything we can to provide the best service. In addition to meeting customer needs and providing basic services for technical support, we can also help dealers to demonstrate the advantages of our products, our professional marketing team can help you optimize and advertise electric bicycle websites, also provide you with plenty of images and video material, covering the factory situation and product details, even advertising, making bicycle product posters, etc. We believe that our distributors can pull attraction from customers accurately with the professional services of Funbike.
More and more people will choose electric bicycles is what we are excepting, a healthy and environmentally friendly method for the journey, and Funbike never gives up on improving and innovating, striving to manufacture more advanced electric bicycles, and provide customers with better service!
Want to learn more about Funbike? Curious about our products? Feel free to contact us.